Éloge du service en salle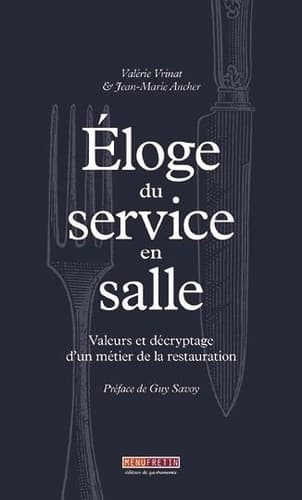 ÉLOGE DU SERVICE EN SALLE

VALEURS ET DÉCRYPTAGE D'UN MÉTIER DE LA RESTAURATION

BY VALÉRIE VRINAT ET JEAN-MARIE ANCHER

GUY SAVOY PREFACE
"The service team is an extension of the kitchen team and the search for perfection comes from only one challenge: please the guests and give the best of ourselves."
Guy Savoy
Medias have shed light on many professions of the culinary world over the years such as Chefs, pastry Chefs, or even sometimes sommeliers. However, we talk far less of the Table Service professions. Nonetheless, a restaurant is not only a kitchen. It is also welcoming guests, an atmosphere, an attention. Table Service professions have been less promoted over the past years even though they are an indispensable link between the kitchen and guests.
Largely impacted by the sanitary crisis, the culinary world is nowadays facing challenges to hire. In this book, which has a pedagogical approach, Valérie Vrinat and Jean-Marie Ancher, used their knowledge accumulated over the years working at the Taillevent restaurant to transmit values of excellence and perfection. They also aim to show the next generations how these professions can be beautiful, noble and rewarding.
Through numerous advices and stories from their past professional careers, Valérie Vrinat and Jean-Marie Ancher highlight all the richness, nobleness of the table service professions and the career opportunities available.
Book only available in French
Order the book